Safenames ranks in top 10 Complainant representatives for WIPO domain disputes
Jul 31, 2020, 10:56 AM
---
Securing your brand online is an ever-increasing imperative for trademark owners. Rather than going to Court, alternative dispute resolution offers a swift remedy against cybersquatting. Nonetheless, domain name disputes can present complex issues; it is crucial to enlist the help of experts to represent your brand.
Safenames continues to be one of the leading representatives for brands in domain name disputes globally. We are in the top 10 filers at the World Intellectual Property Organization (WIPO), the highest British-based company on the list. So far in 2020, we have moved up to 2nd place for most decisions received in the year. This is all while maintaining a 100% success rate.
WIPO saw another record year for domain name disputes, with 3,693 cases filed in 2019. When it comes to protecting your brand, be aware that an increase in cybersquatting affects businesses of all shapes and sizes. Safenames represents clients from a range of sectors, including luxury goods, financial services, online-based companies and famous retail brands.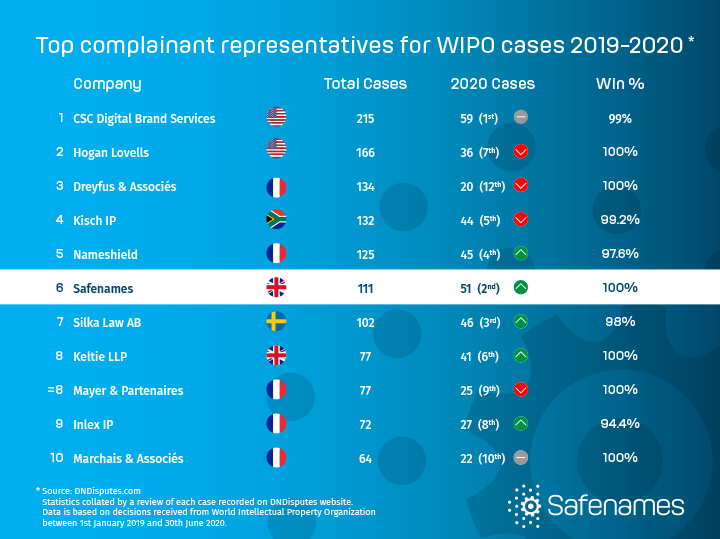 Our brand enforcement services extend beyond the Uniform Domain Name Dispute Resolution Policy (UDRP), which celebrated 20 years of existence in October 2019, to include disputes under country code policies such as .uk, .fr, .cn, .it and .in. Safenames has filed cases in dozens of jurisdictions, many of which are filed to dispute providers other than WIPO, so are not reflected in the above table.
We are proud to be at the forefront of abusive domain name retrieval worldwide. Consumer trust in your online presence is vital, ever more so in light of increasing online use, particularly for commerce. Speak to one of our brand protection analysts.